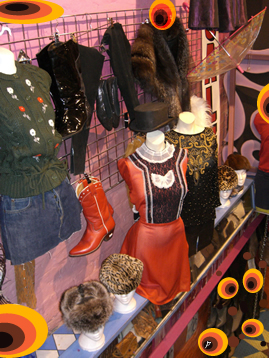 "Funky Town Shop sources and stocks the highest quality grade of classic, vintage, retro styles; with more than Six Decades of Clothing, Fashion and Accessories to suit all era's of the rainbow - 30's, 40's, 50's, 60's, 70's, 80's, modern retro-style vintage, funky fashion and groovy accessories. Funky Town has Authentic English Vintage Clothing - European, North and South American Fashion, including an extensive range of vintage haute couture, costume jewellery and accessories."
Funky Town Shop is based in the heart of The Stables Market, Chalk Farm Road, Camden Town - London NW1 8AH.
Relationships in Vintage Fashion
Building on many years of experienced contacts and relationships in Vintage fashion - Funky Town Shop has a substantial market advantage in the fashion vintage sector - accordingly, we are able to source and supply the highest grade of quality clothing and accessories - making them available to you at attractive prices.
Reliable Source of Inspiration for Authentic Quality Vintage Shopping
Funky Town is renowned by many visitors, customers and fashionistas as a reliable source of inspiration for authentic quality vintage, classics and retro clothing often seen in Fashion photography, Film, Television, entertainment, documentaries, music, theatrical industries and fashion.